2016 ROGUES NEWS: There is some talk about a script coming to completion! Wonder if it's the BIG screen or the SMALL screen? And, does that even matter??? Could you imagine this bunch in a made-for-TV series?? HOLY COW!!!!!
But, more exciting news is that a new paperback edition is out with a fresh cover  and some new scenes. Getting to know this zany bunch will be more affordable now – so what are you waiting for?  Our thanks to the new publisher, who like the last one, believes insanely in this fun and riotous romp through Daytona Beach! You can follow the Rogues at the blog site, too. Nancy Q.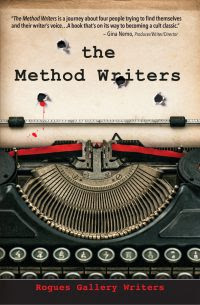 The Rogues Gallery Writers is a focus group of writers,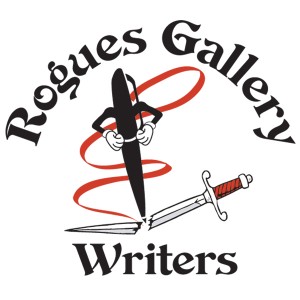 artists and poets with several books to their credit.
Every one of the Rogues has won awards for their craft and some, like Michael Ray King and Bridget Callahan, are gifted in more than one medium! Mike is an outstanding award-winning poet; Bridget is also an artist, using fabric as her medium.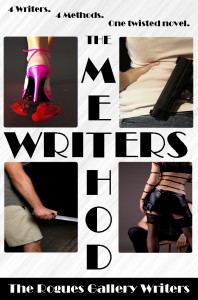 Started in 2009, the concept story board took up a 10′ x 8′ section of wall space.  Each writer picked a colored marker and over the course of almost 104 weekly brainstorming sessions, THE METHOD WRITERS was created. Essentially, four story lines, each with their own character and subplot, were woven into 1 novel with some nifty twists and turns, and powerful life lessons, to boot!
THE METHOD WRITERS in the hard cover version was released in September of 2012, but is no longer available., but the paperback is already gaining some momentum, so join in on the fun! Also visit us on YouTube and Facebook!  Just look for The Method Writers and enjoy our Behind the Scenes video!
And just like the true characters they are, David, Dorian, Georgie Mae and Marty, from The Method Writers broke free and wrote their own book – titled, Fictitious Fiction – also available at AMAZON.COM.