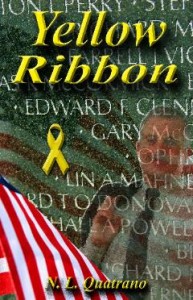 Wherever ebooks are sold!  $1.99 will help soldiers and their families get back on their way to recovery! As advertised in the Vietnam Veterans of America magazine, Nov/Dec 2015. 
After a 3 year run with The Wild Rose Press, the 75th Writer's Digest Competition finalist short story, "Yellow Ribbon" is going to be available again!  New cover, new price – and every purchase will generate funds for the K9's for Warriors, too!
Her fiancé was due home from Vietnam on October 5, 1973, but his chopper went down on October 1, and she never saw him again. She's gone on with her life, and she's carried a yellow ribbon for 30 years.  Now, when there's little else to hold onto, can she lay her ribbon down?
Read an excerpt: YELLOW RIBBON, an eBook to benefit our veterans
For the soldiers who've come home and need our help, 60% of every sale will be donated to the K9's for Warriors (Project Orion). Join me in supporting them – buy a  book – help a soldier and family!
Nancy Q.